Granite Plus USA
Call Today (414) 436-2929!
Address: 2817 S 171st St. New Berlin, WI 53151
Hours: [ M,T: 10am-6pm ] [ W:10am-7pm ] [ Th:10am-6pm ] [ F: 9am-4pm ] [ Sat: 9am-1:30pm ] [ Sun: Closed ]
Granite Plus USA
Granite Plus partners with the best suppliers to bring you the widest selection of choices.
Whether you're shopping for granite countertops, marble tile, quartz bathroom cabinet tops, or other materials for your home or business, Granite Plus carries hundreds of styles and has access to thousands more from our suppliers.
If you don't see what you're looking for at our showroom, we can easily order from our network of partners to find you the right material for your kitchen counters, bathroom cabinets, tables, fireplace surrounds, tiles, and any other stonework.
Custom Granite, Quartz and Marble Stonework Fabrication in Milwaukee
Countertops, Tables, Vanities and More for the Bathroom and Kitchen
The stone fabricators at Granite Plus offer personal service, artisan craftsmanship and affordable prices for all countertops, outdoor kitchens, fireplace surrounds and other custom stonework.
Our Warehouse
Quality custom countertops handcrafted from quality slabs of granite, marble, quartz and more. Visit our New Berlin warehouse to choose your stone.
Granite Plus is a member of the Stone Fabricators Alliance (SFA) and the Marble Institute of America (MIA). Our experienced stonework fabricators and installers provide hand-cut, hand-polished and expert-inspected countertops, fireplaces and more for homeowners and business owners throughout Southeast Wisconsin, including Milwaukee, Madison, Green Bay, Racine and Kenosha. Contact our designers, fabricators and installers for a fast, free quote on your next stonework remodeling project.
Along with providing affordable granite countertops and custom stonework for Milwaukee area homeowners, our fabricators and installers also serve professional remodelers, interior designers, cabinet makers and architects. If your customers are looking for a unique piece of stonework, we're happy to work with you to find the right design and material.
Warranty! We take pride in our craftsmanship and our attention to detail. Our services are warrantied for a period of 24 months after project completion. Restriction may apply. Contact us for details. Material warranties apply if the material purchased comes with a warranty.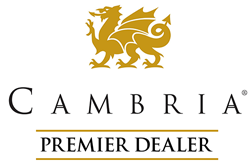 Family Owned, American Made!
Cambria® prides itself on being the only family-owned, American-made producer of natural quartz surfaces. It's a rare combination in today's increasingly globalized marketplace. For our customers, it results in quality that can be felt from start to finish, in products and our customers' experiences.
Call today for a Free Estimate (414) 436- 2929
We service:
Milwaukee WI
|
Milwaukee
|
WS
|
Wisconsin
|